OVERVIEW
+ Evening tour departs daily
+ Pickup 4.30 PM at hotel
+ Tour loop: 16 km/ 10 miles
+ 5 stops, 10 dishes
+ Drop off 8.30 PM at hotel
+ Pickup and drop off in Hoi An
HIGHLIGHTS
+ White Rose dumplings
+ Spring and summer rolls
+ Sizzling rice pancakes
+ Bread, jam, cheese
+ Craft beer, rice wine
+ Local BBQ and dessert
+ Vegan options
ITINERARY
Starting from your hotel, Local Buddy takes you through scenic farming fields and small alleyways to local eateries and restaurants. You will sit among the locals and try a selection of best dishes Hoi An has to offer. Immerse yourself in the vibrant Hoi An food culture as we try truly authentic Vietnamese cuisine and local specialties. Share happy moments with Local Buddies's as we enjoy delicious food, and take home with you some healthy Vietnamese cooking tips. All tasty food and local beverages included. Pace yourself and be sure to come hungry for this amazing experience. After the fun ride with tasty food and drink and sharing good laugh, Local Buddies takes you back to your hotel.
INCLUSIONS
+ Hotel pick up and drop off
+ All local food and beverages
+ Local English speaking guide
+ Bicycle/ Motorbike/ Army jeep
NOTES
+ Please inform us of your dietary requirement prior to the tour so we can prepare perfect dishes for you.
+ Vegan dishes available upon request.
+ Safety is the priority. In motorbike tour, all guests ride pillion behind experienced drivers to enjoy the scenery without having to concentrate on driving.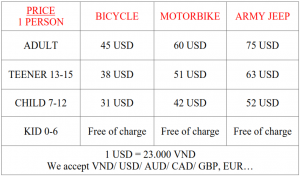 LOCAL BUDDY'S PRIVATE TOURS