OVERVIEW
+ Bicycle tour on flat terrain
+ Distance about 10 miles or 16 km
+ Total duration 5 hours
+ Morning tour: Pickup 7.30 AM
+ Afternoon tour: Pickup 1 PM
+ Hotel pickup and drop off within Hoi An
HIGHLIGHTS
+ Scenic ride on quiet roads
+ Gardening experience in organic farm
+ Play and feed buffalo
+ Coffee stop, tasty snacks
+ Unique bamboo boat ride
+ Tasty lunch or dinner
DETAILED ITINERARY
Wanna drive bicycle at slow pace to see the scenic Hoi An countryside and enjoy exciting activities with local people? Local guide will pick you up from your hotel and transfer to our office. You will familiarise yourself with cycling and some basic etiquette. We then start our ride on the quiet paths to a local family, you will learn how to make healthy bean sprouts. Driving past cattle herds, we go further to the countryside. Chatting along the way with local buddy, you will learn unique customs of Hoi An people. We then meet the adorable water buffalo, you will understand why they are so important in a farming family. You will get to feed him some grass, he is just gentle so you can pet him and enjoy a fun ride on his back.
Soon after that, we visit the picturesque Tra Que organic village to see how the local farmers grow vegetables in their gardens, smell the wonderful aroma from fresh herbs. After a nice walk around the organic farm, you will join some farming activities with a local family. Riding past prawn farms on the way, we visit Cam Thanh village and enjoy a relaxing ride in unique round boat under the shade of palm trees. Soon then, it's time to enjoy a five-course meal in a riverside restaurant with nice views. After all amazing food, local guide takes you back to your hotel. This wonderful experience lasts approximately 5 hours.
INCLUSIONS
+ Hotel pickup and drop off
+ All entry fees & Donation at local families
+ Local English speaking guide
+ Bicycle, or motorbike with local driver
+ Quality helmet and raincoat
+ Coffee & Snacks & Cold bottled water
+ Five-course meal
16 EXCELLENT REVIEWS
Family fun cycling
Thanks to Ben for a great day cycling around hoi an. We enjoyed navigating the back streets and getting to see another side to hoi an. Our 7 year old manged the 16km ride without complaint largely due to the great kid friendly activities along the way which broke up the ride. We loved the visit to the organic farm and helping the farmer, riding the water buffalo and round basket ride. Crab catching proved a surprise hit. Lunch was plentiful and tasty. Ben was able to share his local expertise with us and was happy to answer any questions. Highly recommend this trip for families as it enables all ages to get involved and have a great experience.
Kathryn C – Australia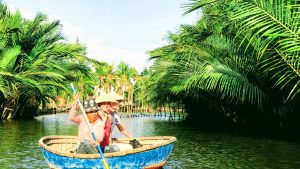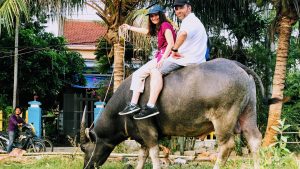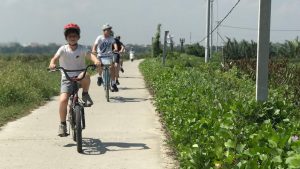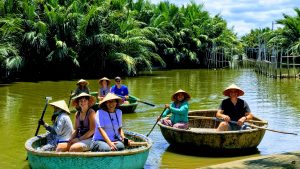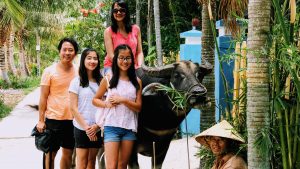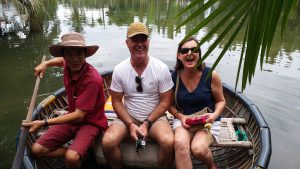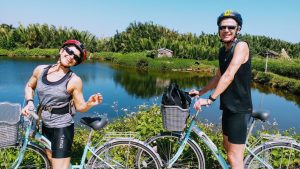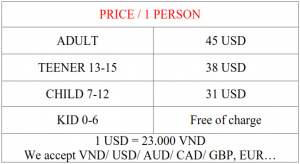 FOR LAST MINUTE BOOKING
Please contact WhatsApp/ Viber:
Ben Nguyen   +84  399161416
Mr Thanh Tran   +84  973943196
Email: localbuddytours@gmail.com
Office: 58A Nguyen Dinh Chieu street, Hoi An