+ Tour by motorbike (guests ride pillion)
+ Drive on scenic paths in quiet countryside
+ Distance about 25 miles or 40 km
+ Total duration: 5 hours
+ Morning: Pickup 7.30 AM – Drop off 12.30 PM.
+ Afternoon: Pickup 1 PM – Drop off 6 PM.
+ Hotel pickup and drop off in Hoi An.
+ Beautiful motorbike ride on countryside roads
+ Learn to make round boat, weave straw mat
+ Visit rice wine distillery
+ Experience unique bridges, panoramic views
+ Enjoy relaxing trip in round bamboo boat
+ Pet and ride buffalo at organic farm
+ Delicious lunch or dinner

ITINERARY
Leave the busy city, we drive comfortable scooters along small roads into Hoi An lush countryside. From the back of experienced drivers, you will enjoy the scenery and take in the fresh air of various crops. Follow our unique route and travel into Local Buddy's villages, you will learn about authentic countryside culture. We make frequent stops to visit local families, these most hospitable people will show you traditional crafts and lifestyles.
Cross the new bridge to visit Cam Kim island, we stop at a local family to experience first-hand the traditional way of making unique basket boat from bamboo. Driving pass green palm trees, we come to a local family and help them weave colorful sleeping mats from river reeds. Visit a home distillery, we learn how to make and drink rice wine local style! Weaving through some quiet roads to a fishing village, we will cruise along the river in the basket boat under the shade of coconut trees.
Feel the cool breeze from rice paddies, we cross the new Cua Dai bridge and take in the panoramic views of Hoi An surroundings. Driving on some more quiet paths, we have the fun ride on the back of a water buffalo, he's just gentle and so adorable! We then take a nice walk in Tra Que organic farm, smell fragrant herbs from the picturesque gardens. It's time to enjoy a delicious Vietnamese meal in a local restaurant with nice views, then local buddies drive you back to your hotel.
INCLUSIONS

+ Hotel pick up & drop off
+ All entry fees
+ Donations at local families
+ Local guide speaking English
+ Motorbike & Experienced driver
+ Quality helmet & Light raincoat
+ Five-course meal
+ Cold bottled water
NOTES

+ Safety is our priority, all guests ride pillion behind experienced drivers
+ Let us know your food restrictions / allergies so we can prepare a perfect meal
+ Bring with you proper shoes, sun protection
+ Wear comfy clothes in summer days, warm clothes in winter days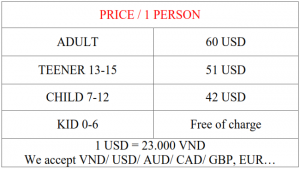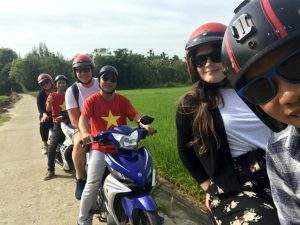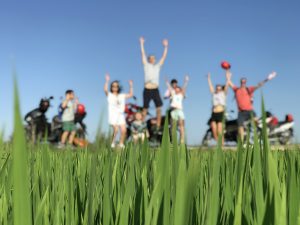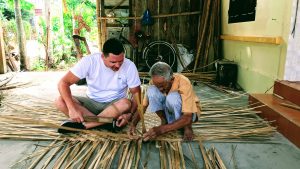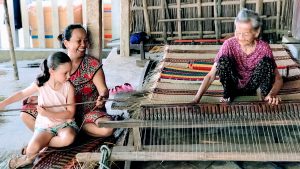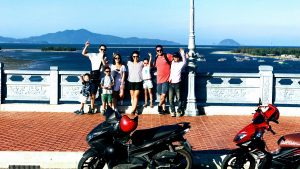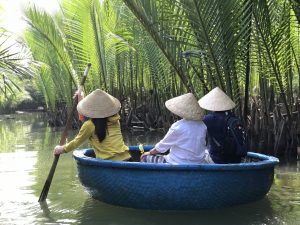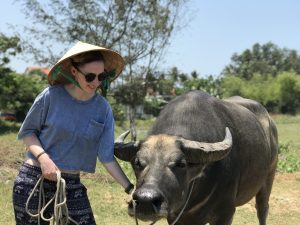 LAST MINUTE BOOKING?
Please contact WhatsApp / Viber:
Mr Ben Nguyen   +84  399161416
Mr Thanh Tran   +84  973943196
Email: localbuddytours@gmail.com
Office: 58A Nguyen Dinh Chieu street, Hoi An

LOCAL BUDDY'S PRIVATE TOURS